© David Rhodes

© David Rhodes


© David Rhodes


© David Rhodes


© David Rhodes

David Rhodes: Even if we come from astrophysics everyone brings his experiences.


© Giovanni Amighetti


© Giovanni Amighetti


© Giovanni Amighetti


© School of Rock


© Frank Hoensch
David about his recent trip to Correggio
"I spent a few days in Correggio at the end of January working with some new friends, on a project that is tentatively titled 'Fermi's Paradox'.
We improvised a number of pieces, that will be edited and worked over the next few months.
The studio was on an industrial estate. The photos were taken there.
The melted plastics look like they're discarded from injection moulding equipment; strange landscapes."
Who knows about the Fermi Paradox?
Talking about the project in an Italian paper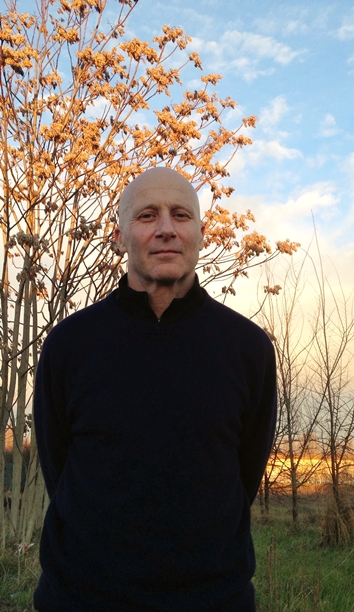 "Anche se partiamo dall'astrofisica ognuno porta le sue esperienze."
"E'un lavoro bellissimo. Trovarsi in studio, scaldarsi cercando l'alchimia tra noi e poi lasciarsi andare seguendo i nostri istinti. E'musica che nasce dalla libertà di espressione e dalle esperienze che ciascun musicista porta con sé. Partiamo da discorsi legati all'alstrofisica, ma poi ognuno mette la propría sensibilità e la propría storia, esattamente come in questa conversazione; parliamo in libertà, ma è il nostro passato a indicare la direzione del discorso."
"E'sempre una questione di emozioni. Io non sono un virtuoso che fa cose incredibili, io cerco di capire cosa deve dire quella canzone, quella musica e dargli quella che, secondo me, è la giusta atmosfera. Non ci metto mille note, ma ne scelgo poche, quelle che ritengo più adatte."
Workshop
Apart from working in the studio David did a workshop (Italian click here):
In the studio with David Rhodes, a workshop on guitar sounds, effects, arranging.
Thursday, January 29 at 21.00 the doors of the study Dudemusic - Recording studio in Correggio (RE) will open where David Rhodes is recording some new work, working title "Distance", in collaboration with the astrophysicist Michele Vallisneri JPL and John Amighetti (synth, former arranger and producer of various Realworld artists), Roger Ludvigsen (guitarist Mari Boine), Pier Bernardi (bassist formerly with Ace, Michael Urbano), Paul Marc (drummer Terje Rypdal, ECM) and guest Faris Amine (Terakaft, Tinariwen ).
David Rhodes is best known for his collaboration with Peter Gabriel since 1980, he also worked with Random Hold, Kate Bush, Paul McCartney, Talk Talk.
The versatile guitarist among the creators of an approach more dedicated to sound and the "right" notes than to virtuosity for its own sake, in this open door event in the studio gives the participants the opportunity to understand his techniques and musical approach. Demonstrations will be followed by a session of Q/A loosly connected to his playing and his long career.
In studio con David Rhodes, un workshop relativo sonorità della chitarra, effettistica, arrangiamenti.
P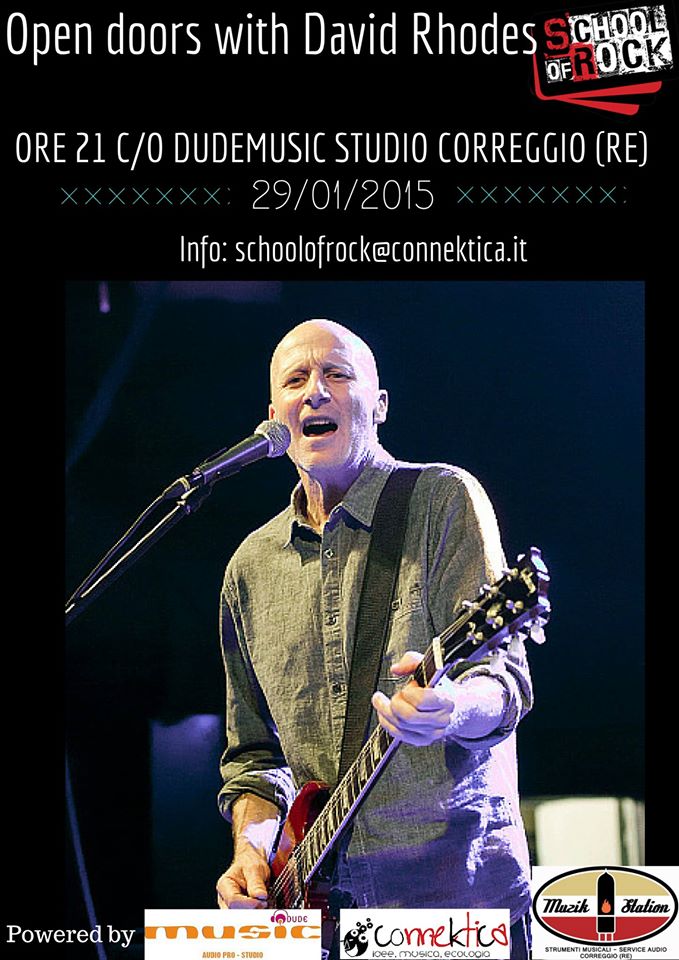 resente il producer Stefano Ricco'
Info e prenotazioni: schoolofrock@connektica.it
Giovedì 29 gennaio alle ore 21.00 si aprono le porte dello studio Dudemusic - Studio di registrazione di Correggio (RE) dove David Rhodes sta registrando il nuovo lavoro, working title "Distance", in collaborazione con l'astrofisicao Michele Vallisneri di JPL e Giovanni Amighetti (synth, già arrangiatore e produttore di diversi artisti realworld), Roger Ludvigsen (chitarrista Mari Boine), Pier Bernardi (bassista già con Ace, Michael Urbano), Paolo Vinaccia (batterista Terje Rypdal, Ecm) e ospite Faris Amine (Terakaft, Tinariwen).
David Rhodes é noto soprattutto per la sua collaborazione con Peter Gabriel dal 1980, ha lavorato anche con Random Hold, Kate Bush, Paul McCartney, Talk Talk.
Chitarrista eclettico tra i creatori di un approccio più legato al sound ed alle note "giuste" che ai virtuosismi fine a sé stessi, in questo evento open door in studio dà la possibilità ai presenti di capire le sue tecniche e l'approccio musicale. Alle dimostrazioni seguirà un sessione di Q/A libera legata al suo suonare ed alla sua lunga carriera.
Organizzazione Connektica - Dudemusic - Studio di registrazione per SCHOOL OF ROCK - Sant'ilario d'Enza
In collaborazione con Muzikstation e Arvmusic
Photo by Frank Hoensch