Hammersmith Apollo
After more than 35 years Kate Bush takes the stage again at London Hammersmith Apollo!
Tickets were sold out in about 15 minutes. People are coming to London from all over the world to see her live in this brilliant show.
Hallo everyone,
I am completely overwhelmed and genuinely shocked by the incredibly positive response from everyone. Thank you!
With best wishes,
Kate
Kate's message after the shows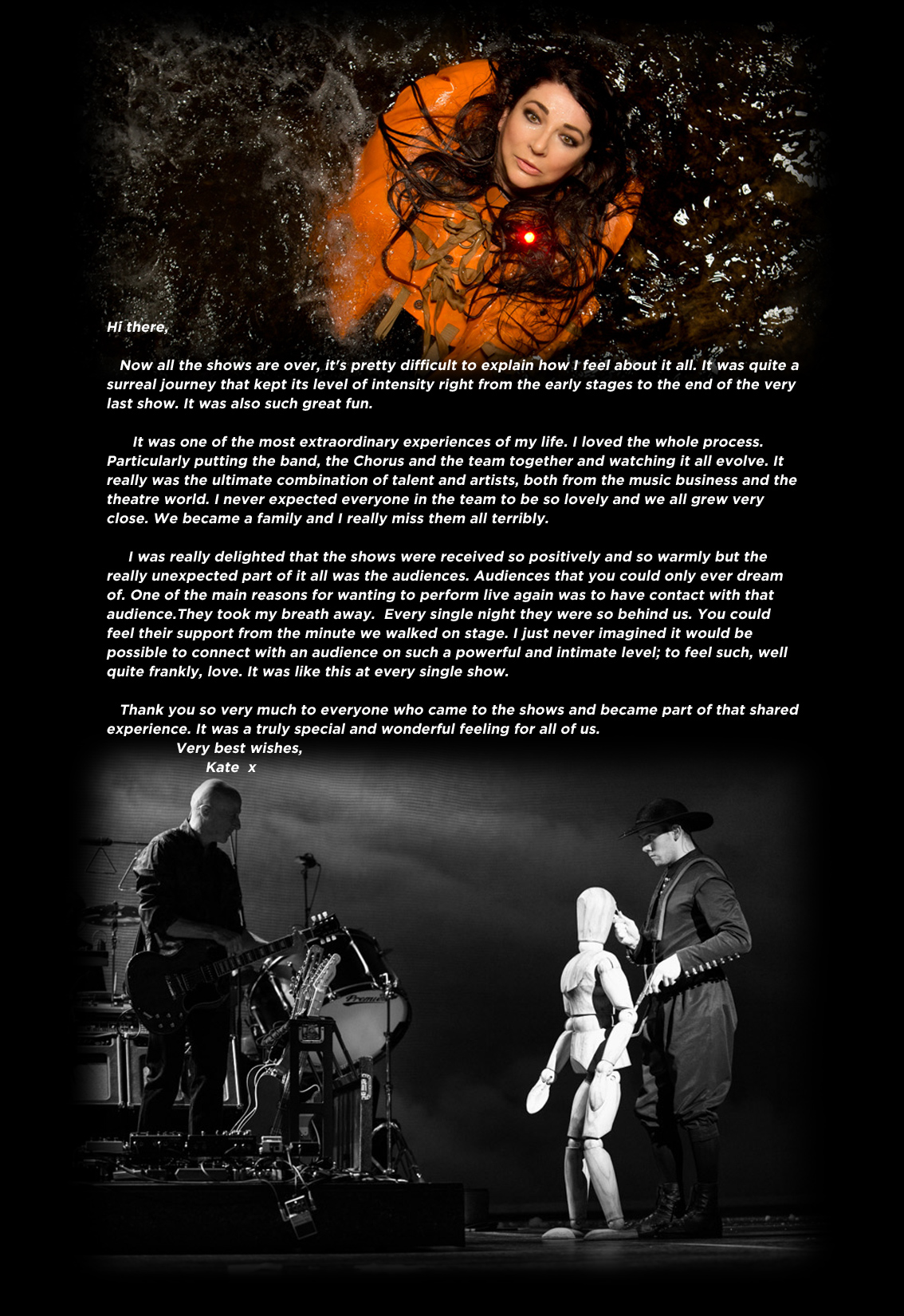 Introduction
Lily
Hounds of Love
Joanni
Top of the City
Running Up That Hill (A Deal with God)
King of the Mountain
The Ninth Wave
Video Interlude - And Dream of Sheep
Under Ice
Waking the Witch
Watching You Without Me
Little Light (Performed by backing vocalists)
Jig of Life
Hello Earth
The Morning Fog
A Sky of Honey
Prelude
Prologue
An Architect's Dream
The Painter's Link
Sunset
Aerial Tal
Somewhere in Between
Tawny Moon (performed by 'Bertie' Albert McIntosh)
Nocturn
Aerial
Encore
Among Angels
Cloudbusting
Editor's Award 2014
Kate Bush received Editor's Award from Evening Standard for her incredible show Before the Dawn. Sir Ian McKellen presented her with a special editor's award recognising the "great spectacle" of her show.
Kate Bush that night: "It was just an incredible experience," she said, crediting both the encouragement of her son, Bertie, and the enthusiasm of London audiences. "You hope that the audience will like what you're doing, but my God - every night these people were there, driving us on. Thank you to everybody who came to the shows and made it feel like it was something special."
Watch her speech in the picture tab.
TPi Award 2015
Kate Bush - Before the Dawn is the winner in the category "Live Production of the Year" - Congratulations!   :-)
"Since its inception in 2002, the TPi Awards event has consistently grown in size and status, and is now regarded throughout the world as the premier networking event for the live production industry." -  Learn more about the TPi Awards here.