The David Rhodes Band is a trio led by guitar innovator and Kate Bush/Peter Gabriel/Scott Walker collaborator David Rhodes. 
Featuring Ged Lynch (Peter Gabriel/David Sylvian) on drums, Charlie Jones (Goldfrapp/Robert Plant) on bass and David Rhodes on vocals and guitar, the three-piece take the traditional Power Trio format into unexpected territories by blending aspects of the band member's experimental Art Rock and Post-Punk backgrounds with more direct 1960s R&B and Blues-inflected Rock influences.
Produced by Chris Hughes and mixed by Tchad Blake, the band's debut release is a rare combination of plaintive ballads, powerful riffs, Art Funk grooves and elegantly crafted melodies delivered by the powerfully emotive voice of Rhodes. 
By turns earthy and oblique, The David Rhodes Band inventively reinvigorate Rock mores with sincerity and passion.

Tim Bowness
Where to get the Album
Amazon.de    Amazon.co.uk     Amazon.com    Burningshed   
Tracks

If I Could Empty My Head
Grinding Wheel
Ship Of Fools
You Are The North Wind
Monkey On My Back
Waggle Dance
Time
Three Is Everything
My Blue Balloon
Be Mine
Bass playing: Charlie Jones
Drumming and percussing: Ged Lynch
Guitaring and singing: David Rhodes
Producing, guiding, advising, cajoling, compiling, artworking, additional percussing,
 incessant unplugged contrapuntal guitaring, mastering and hosting of gin Fridays: 
Chris Hughes
Recording: Mark Frith at Ashley Manor, Wiltshire
Mixing: Tchad Blake at Mongrel
Photographing and encouraging: Richard 'Dickie' Chappell
More artworking: RidArt
 Song writing: David Rhodes 
Publishing: Real World Music
 Executive Producers:
Tony Dunham
Jim, Scott and Christopher 
Steve Loxham
David Daniels
Lesley Lieb
Additional Funding:
David Tellett - Nicola Scott - Wayne Cunningham - Roger Cox - Hugo Burnham
Marc Gutekunst - Deutscher Genesis Fanclub 'it' - Joachim Schwensen - Dalton Edward Main 
Kees van Til - Birgit B-Mannheims - Carlos Nunez - Darcy L Quinlan - Oliver Dold
Lele Marchitelli - Antoine Loguillard - Gary O'Shea - Kerstin Rümke - Chris Chalkley
Plattenlauscher.de - Anthony Mohr - Peter Korch - Eric Yarker - Andrew Sedcole
Gary Southan - John Richard Barrow - Ronald M Hoering - Dean Merchant
Special thanks are due to everyone who helped get the project off the ground via Pledge. 
It really wouldn't have come about without you.
Thank you very much to the Judgeday Limited gang: Dave-T - Chris Hayter
Beckie Parsons and Isabelle Sully, who make all the practical things happen.
More thank yous to:
Danny Haikin, who kindly lent his support and the support of Bowers and Wilkins.
Mike Large and Amanda Jones of Real World.
Rivera Amplification, who make such great guitar gear. Thank you Paul (Snr) and Paul (Jnr).
Peter Leinheiser, at Gibson, who has helped with their MinE-tune system.
Premier and Zildjian who work with Ged.
David Stewart, whose image adorns the cover. See more: davidstewwwart.com
Stacey Drucker, assistance and encouragement.
Contact: chris@judgeday.co.uk 
https://www.facebook.com/davidrhodes.rhodes
https://soundcloud.com/davidrhodesmusic
All Rights Reserved 2013
The plan was to make a band album as a three piece, using as few overdubs as possible.
I brought the songs in and then the three of us, guided by Chris Hughes, knocked them into shape.
The whole process was quite quick, as we'd already been playing a few of the tunes live.
Hooked on Music
"A wonderful album with a variety of truely great songs"
Burning Shed
"A rare combination of plaintive ballads, powerfull riffs, Art Funk grooves and elegantly crafted melodies delivered by the powerfully emotive voice of David Rhodes"
DAVID RHODES ON HIS OWN
Amusio.com 22nd September 2014, 07:33 AM, Stephan Wolf (German Version here)
Just now, the sought-after master guitarist is playing alongside Kate Bush during her 15 concert residency in London, but right after that he'll travel on to Germany and Austria by himself, with the new "Rhodes" album in his pocket: David Rhodes.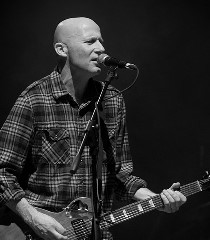 For over 30 years he and his distinctive guitar have been invariable constants in Peter Gabriel's band line-up (may have rubbed off on his singing, too).
The fact that he can't just count Peter Gabriel, but also such acts among his "clients" as Talk Talk, New Order, Paul McCartney, T-Bone Burnett or indeed Kate Bush, will surely be of some benefit to this current, second solo outing. Besides, you can expect this 58-yr old Londoner to be way more than just a safe bet live on stage.
While the self-distributed solo debut "Bittersweet" still seemed just a little patchy in comparison, "Rhodes" (available from Oct. 10th via Glassville / Soul Food) appears to have been created at a single cast. Recorded as a trio with Charlie Jones on bass and Ged Lynch on drums, it's earthy vibrancy requires no additions. What use for synths & keys, if you're able to serve up exquisitely variable guitar sounds like David Rhodes? It's no accident that his upcoming tour is being presented by "Guitar & Bass" musicians' magazine.

Don't expect stylistic adventures from David Rhodes. He and assisting producer Chris Hughes are focusing on classic power rock, with pop overtones, and some relaxed, decelerated tracks (such as the wonderful "Three Is Everything").
Only the rising pressure generating "My Blue Balloon" and "Be Mine" dare to run off the rails a bit towards the end; yet these do count among the highlights of a disc, where only the (relatively short) running time could possibly garner any kind of objection. However, you're being well compensated for this by consistently sophisticated, crystalline notes and understated licks on offer throughout.
A clear case of an album for the true connoisseur.
Rocktimes.de
Review von Sabine Feickert, 09.10.2014
The David Rhodes Band / Rhodes
Hab ich nicht grad letztens noch meinen Unmut darüber kundgetan, dass Altmeister Gabriel immer wieder die alten Hits (um nicht zu sagen die ollen Kamellen) neu interpretiert? Mir neues Material von ihm gewünscht? Nun, er selbst ist auf dem Ohr ja weitgehend taub, doch sein langjähriger Gitarrist David Rhodes springt für ihn in die Bresche. So ein bisschen jedenfalls.
Nach Bittersweet vor gut vier Jahren, erfreut er auch auf "Rhodes" mit Songmaterial, das jedem die Lauscher aufklappen lässt, der sich an "Sledgehammer" und "Solsbury Hill" sattgehört hat. Auf den ersten Eindruck könnte es durchaus ein neues Gabriel-Album sein. Auf den zweiten fallen dann doch auch Unterschiede auf. Wär ja schlimm, wenn nicht...
... denn neben der langjährigen und ausgesprochen fruchtbaren Zusammenarbeit mit Gabriel teilte Rhodes auch Bühnen und Studios mit Paul McCartney, Kate Bush und Roy Orbison, um nur ein paar große Namen rauszugreifen. Seine Diskografie liest sich wie ein kleines Who Is Who der Rock- und Popwelt. Für "Rhodes" griff er wieder auf den Bassisten Charlie Jones und Drummer Ged Lynch zurück, die auch schon auf "Bittersweet" mitwirkten.
Keyboards blieben für das neue Album außen vor und so viel schon vorab – geschadet hat das nicht, die Triobesetzung macht ihre Sache ausgesprochen gut. Das finden wohl auch die Musiker selbst, denn mittlerweile laufen sie als The David Rhodes Band – meine Promoscheibe wird wohl eine Rarität werden, denn auf ihr prangt noch einsam und allein der Schriftzug 'Rhodes'.
Funkig-groovig startet sie mit "If I Could Empty My Head", unterlegt von einem uhrwerkartigen Rhythmus. Auch die "Grinding Wheels" laufen mit der Uhr, der Gesang pendelt zwischen Stakkato und hochmelodiös, die Gitarre darf zwischendurch auch mal vor sich hinzerren und dieser nachdenklichen Nummer Wehmut und auch mal leichtes Unbehagen zufügen. Ein wenig afrikanisch inspiriert ist das "Ship Of Fools". Lange melancholische Erzählpassagen wechseln mit einem im Vergleich dazu schon beinahe bombastischen Refrain. Stark gemacht und live (der Song schreit nach dramatischen Lichteffekten) wahrscheinlich ganz großes Kino. Im Oktober sind die drei übrigens auch hierzulande auf Tour.
"You Are The North Wind" hat was von "Biko". Stimmung und Tiefe und Intensität. Ist dabei aber doch auch wieder anders. Schon ein eigenständiger Song, der vielleicht inspiriert ist, aber nicht kopiert. "Monkey On My Back" hat dagegen wenig mit dem allseits bekannten geschockten Affen zu tun, hat dafür aber eine Gitarre zu bieten, die mich spontan an die "Galactic Guitars" desConny Conrad denken lässt.
"Waggle Dance" ist wieder eine dieser Nummern, die auch mit Gabriel entstanden sein könnten. Ein wenig anders klingt die Gesangsstimme selbst, doch in Modulation und Art des Vortrags ist sie nah dran. Gegen Ende des Songs fließen dann auch hier afrikanische Einflüsse rein.
"Time" erinnert mich beim Einsetzen der Strophe von der Stimmung her kurz an die ruhigen Parts von "Family-Snapshot". Lässt mich aber andererseits spekulieren, ob es nicht auch eine Antwort auf "Time Is On My Side" sein kann. Wahrscheinlich sind diese Gedanken dazu aber auch nur das, was mir in dem Moment dazu einfällt, bevor "Three Is Everything" den Arm um mich legt und mit mir tanzt. "My Blue Balloon" ist eindringlich. Eine leise Nummer, die sich im Verlauf steigert, wieder abschwächt, weiter steigert und insgesamt eine schöne Dynamik entwickelt. So richtig fürs Herz klingt das Album mit "Be Mine" aus – Feuerzeuge zücken und ganz eng an den/die Liebste(n) kuscheln!
Alles in allem hat Rhodes hier eine starke Visitenkarte abgeliefert. Die langjährige Zusammenarbeit ist unüberhörbar und ganz sicher auch gewollt und – siehe oben – wer "So" ein paar neue Songs hören möchte, der kann hier wahrscheinlich bedenkenlos zuschlagen!
Deutscher Genesis Fanclub
Review by Thomas Schrage
David und Rhodes: Rhodes

Ein neues Album mit Hilfe von und bei PledgeMusic erschienen
David Rhodes hat sein zweites Soloalbum herausgebracht. Doch halt – nicht wirklich sein Soloalbum. Diesmal ist es etwas anders als bei Bittersweet. Die zentralen Musiker, die auch schon 2009 dabei waren und später mit David auf Tour gegangen sind, haben ein Trio gegründet und als solches das neue Album eingespielt. Es handelt sich dabei um David Rhodes selbst an den Gitarren, Ged Lynch am Schlagzeug und Charlie Jones am Bass. Dieses Trio nennt sich - weil alle anderen Namensversuche offenbar entweder zu wenig oder zuviel Bedeutung hatten - einfach "Rhodes". Und so heißt dann auch das neue Album.
Echte Leute
4. Oktober 2014 Hans
"Rhodes" – starkes zweites Solo-Album von David Rhodes
Vier Jahre sind inzwischen ins Land gezogen, seit David Rhodes, der Gitarrist von Peter Gabriel, sein erstes Solo-Album "Bittersweet" veröffentlicht hat.
Nun hat das Warten ein Ende, denn sein Zweit-Solowerk "Rhodes" ist seit dem gestrigen Tag im Handel erhältlich.
Eingespielt hat der aus London stammende Musiker es zusammen mit dem Drummer Ged Lynch (Peter Gabriel, The Charlatans, Natalie Imbruglia, Chrissie Hynde, Electronic) und dem Bassisten Charlie Jones (Robert Plant, Goldfrapp, Jim Kerr, Loreena McKennitt).
Byte FM
One Track Pony - The David Rhodes Band
09.09.2014
Gitarrist David Rhodes bringt in der kommenden Woche sein neues, zweites Solo-Album mit dem schlichten Titel "Rhodes" heraus. Mit dabei sind Ged Lynch am Schlagzeug und Charlie Jones am Bass. Wesentlich rockiger als der Vorgänger "Bittersweet" dabei gleichzeitig organischer wirkt "Rhodes". Frank Lechtenberg stellt das neue Album von David Rhodes vor und spielt auch einige Stücke vor, die David Rhodes in den Bands anderer Musiker (vornehmlich Peter Gabriel) gespielt hat.