© David Walker

© David Walker

© David Walker

© David Walker

© David Walker

© David Walker
Nearing the end of the run as a member of the Kate Bush musicians at the Eventim Apollo Hammersmith London in the amazing run of 22 nights, David Rhodes pictured here chilling and looking calm and relaxed before the night's work .Enjoying the sunshine and a coffee. He stands a short walk round the corner from the crowds waiting to enter into the venue for the Wednesday the 24th Sept night's gig.
Beside him stands one of the all time greats of the fretless bass John Giblin whose pedigree has also seen him perform live, and recording with some of the greats like David Rhodes, incl. Peter Gabriel for a tour and Simple Minds and Brand X.

Entering the front of the newly refurbished venue security checked tickets and ID matching the buyers.The crowds enter into the building and wait for the magic to begin. David slips thru the crowd and in via the stage door out of sight to most of the eager crowd.
The sold out venue has people sitting everywhere after visiting the bars and merchandise stands placed every level of the building. Fast approaching the start time for the show.
The lights dim, a blue light stage sees the incredible band with David standing to the extreme right hand side of the stage launching into the start of an incredible set with 'Lily', David's distinctive guitar layering thru the songs, adding colour on every note. Switching between his trademark cherry red guitar and acoustic guitars.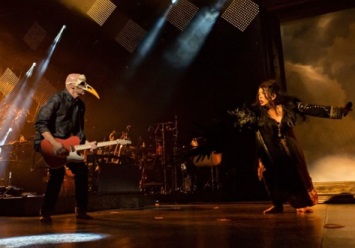 David interacting with the band, singers and dancers and at one point with Kate whilst wearing a bird mask. The colours and stage set making this a cinematic experience rather than the average rock concert. Incredible show and the guitar work provided by David and the likes of Omar Hackim on drums and John Giblin just brushing the pallet paint on to the canvas for the audience to be in awe of it's beauty.
An astounding success and more before The David Rhodes Band takes to the road in Europe to promote the same titled current cd before David returns to take another leading role with Peter Gabriel in some more of the SO tour Back to Front gigs.
Kate Bush Before the Dawn
Hammersmith Apollo, London
Sept 24 2014
Line-Up
Kate Bush - vocals (plus occasional piano/keyboards)
David Rhodes - guitar
Friðrik Karlsson – guitar, bouzouki, charango
John Giblin – bass guitar, double bass
Jon Carin - keyboards, guitar, vocals, programming
Kevin McAlea – keyboards, accordion, uilleann pipes
Omar Hakim – drums
Mino Cinélu – percussion
First Act
Lily 
Hounds Of Love 
Joanni 
Top Of The City 
Running Up That Hill 
King Of The Mountain 
Ninth Wave Intro 
And Dream Of Sheep 
Under Ice 
Waking The Witch 
Interlude 
Watching You Without Me 
Jig Of Life 
Hello Earth 
The Morning Fog
Second Act
A sky of honey
Prelude 
Prologue 
An Architect's Dream 
The Painter's Link 
Sunset 
Aerial Tal 
Somewhere In Between 
Tawny Moon (Bertie sings)
Nocturn 
Aerial 
Among Angels 
Cloudbusting

david walker 2014