© Phil Morris


© Burning Shed


© Burning Shed


© Anthony Reynold


© Mike Goode via Instagram
The Chapter-Burningshed Association...
That Saturday night at Chapter Arts Centre the gig was started by Theo Travis with two of his Flute Loops. And right after that David performed some of his work: He did his Monkey On My Back and Be Mine, and then he was joined by Peter Chilvers in performing You Are The North Wind. All three taken from his second album The David Rhodes Band.
His last tune was Down By The River from his first album Bittersweet, this time with Peter, Theo Travis and Tim  Bowness joining in.
Complete Set List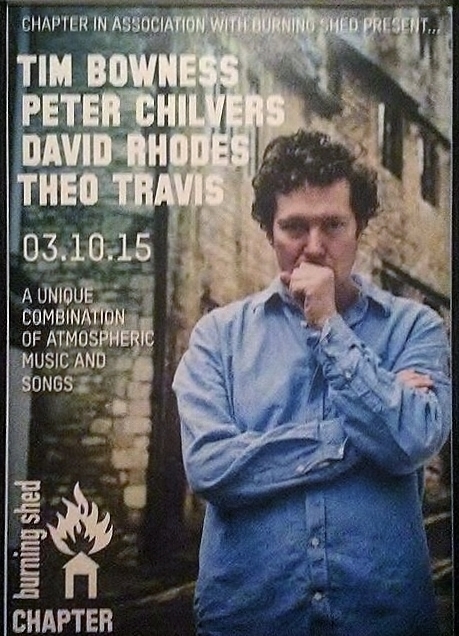 Set 1
Theo Travis - Flute Loop 1
Theo Travis - Flute Loop 2
David Rhodes - Monkey On My Back
David Rhodes - Be Mine
David Rhodes and Peter Chilvers - You Are The North Wind
David Rhodes, Peter Chilvers, Theo Travis and Tim Bowness - Down By The River
Tim Bowness, Peter Chilvers, David Rhodes and Theo Travis - Criminal Caught In The Crime
Set 2
Theo Travis - Flute Loop 3
Tim Bowness, Peter Chilvers and David Rhodes - The Love Is Always There
Tim Bowness, Peter Chilvers and David Rhodes - Know That You Were Loved
Tim Bowness, Peter Chilvers, David Rhodes and Theo Travis - Blog Remember Me
Tim Bowness, Peter Chilvers, David Rhodes, Theo Travis and Pete Morgan - Post-Its
Tim Bowness, Peter Chilvers, David Rhodes, Theo Travis and Pete Morgan - The Boy From Yesterday
Tim Bowness, Peter Chilvers, David Rhodes, Theo Travis and Pete Morgan - Days Turn Into Years