DAVID RHODES ON HIS OWN
Amusio.com 22nd September 2014, 07:33 AM, Stephan Wolf, German Version
Just now, the sought-after master guitarist is playing alongside Kate Bush during her 15 concert residency in London, but right after that he'll travel on to Germany and Austria by himself, with the new "Rhodes" album in his pocket: David Rhodes.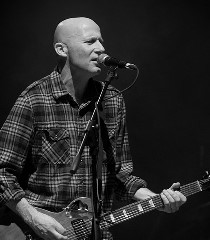 For over 30 years he and his distinctive guitar have been invariable constants in Peter Gabriel's band line-up (may have rubbed off on his singing, too).
The fact that he can't just count Peter Gabriel, but also such acts among his "clients" as Talk Talk, New Order, Paul McCartney, T-Bone Burnett or indeed Kate Bush, will surely be of some benefit to this current, second solo outing. Besides, you can expect this 58-yr old Londoner to be way more than just a safe bet live on stage.
While the self-distributed solo debut "Bittersweet" still seemed just a little patchy in comparison, "Rhodes" (available from Oct. 10th via Glassville / Soul Food) appears to have been created at a single cast. Recorded as a trio with Charlie Jones on bass and Ged Lynch on drums, it's earthy vibrancy requires no additions. What use for synths & keys, if you're able to serve up exquisitely variable guitar sounds like David Rhodes? It's no accident that his upcoming tour is being presented by "Guitar & Bass" musicians' magazine.

Don't expect stylistic adventures from David Rhodes. He and assisting producer Chris Hughes are focusing on classic power rock, with pop overtones, and some relaxed, decelerated tracks (such as the wonderful "Three Is Everything").
Only the rising pressure generating "My Blue Balloon" and "Be Mine" dare to run off the rails a bit towards the end; yet these do count among the highlights of a disc, where only the (relatively short) running time could possibly garner any kind of objection. However, you're being well compensated for this by consistently sophisticated, crystalline notes and understated licks on offer throughout.
A clear case of an album for the true connoisseur.
Cheers,
Team D R